Overseas sales of kintsugi pieces utilizing the lacquering technique in Buddhist altars
---
Overseas Sales Development of Unique Kintsugi Pieces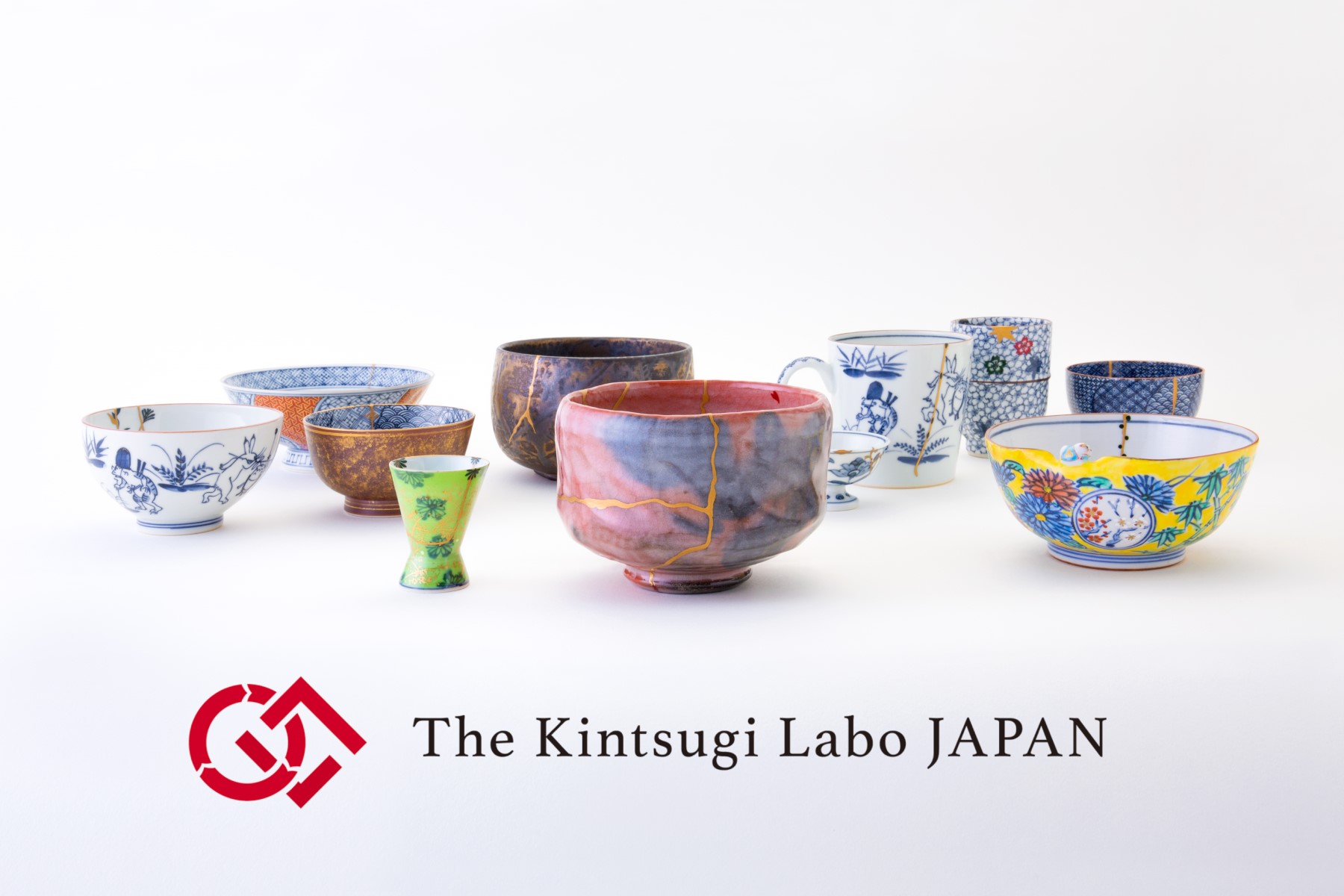 Mr. Nobuyasu Suginaka, a traditional lacquer artisan, creates original lacquer ware using his idea by drawing patterns one by one with his fingers on the uniquely uneven and chipped wooden base, and then carefully applying lacquer by hand.

In September 2021, we launched a cross-border EC business based on the theme of "Kintsugi," which is becoming an increasingly popular topic around the world.
Kintsugi is a lacquer technique unique to Japan that uses lacquer to join broken ceramics together.
It is a sustainable art form that brings broken ceramic pieces back to life again.
Recently, the culture of Kintsugi has been highly appreciated, especially in the Western countries, for its mindfulness aspect, which is used to connect broken hearts and reconnect a divided world.
We do not intentionally break new vessels to create our Kintsugi pieces. In the spirit of the beautiful art of Kintsugi, which is to take good care of things, we procure from our collaborators unsalable ceramics that have cracks and chips and should have been discarded. We do not stop at Kintsugi, but also use maki-e and various other techniques to create unique kintsugi pieces.
Maki-e refers to lacquer ware decoration technique in which design is drawn in lacquer, over which gold, silver or other metal powder is sprinkled while the lacquer is wet.
Our office and Mr. Suginaka have set up an online store selling Kintsugi pieces to overseas customers together.
https://kintsugilabo.com/

Shiga Prefecture in Japan is home to the largest lake in Japan, "Lake Biwa". Nagahama City in Shiga Prefecture is located in the northern part of the lake. Kunitomo town in Nagahama City was once home to a famous gunsmith and is famous for its unique manufacturing of Buddhist altar called "Hama-Butsudan (Buddhist altars)".
In Shiga Prefecture, Hikone Buddhist altars, a traditional craft designated by the Japanese government, are famous throughout the country, but Hama-Butsudan is certified as a craft designated by Shiga Prefecture. The characteristics of Hama-Butsudan are its gorgeous interior and magnificent wood carvings. It is said that Hama-Butsudan originated from a Buddhist altar made by a craftsman who was involved in making floats which are now an important cultural asset.

Like other Buddhist altar production areas in Japan, Hama-Butsudan is also facing a difficult situation due to the decline in demand caused by the recent shift away from Buddhist altars by Japanese people.
Mr. Nobuyasu Suginaka, the owner of the Buddhist altar store called "Soweido", is an extremely skilled lacquer artisan who not only receives orders from various Buddhist altar manufacturers, but also plans, designs, manufactures, and maintains his own small Buddhist altars called "Kogiku-dan". "Kogiku" represents small chrysanthemum, and "dan" represents Buddhist altars.
The Kogiku-dan is technically very intricate in every detail. In particular, not only does he apply lacquer to the seamlessly uneven edges of the ceiling, but he also polishes them with charcoal without scratching them, a process that requires a high level of skill as well as patience.

As is true for lacquerware in general, it is necessary to deal with two difficult issues: it is difficult to create a distinctive lacquer finish in each production area, and it is difficult to convey the value of lacquerware, especially to people overseas, even if it is beautifully lacquered.

It is very difficult to differentiate lacquer ware from other production areas because just lacquering in general makes only typical lacquer ware. The difficulty of differentiation is similar to that of Japanese paper. It is more important to know who made the product than the production area. There are many different ways to make a difference, such as applying a thick layer of lacquer or making accessories.

When people from overseas see Japanese lacquer ware, they often respond that it is too beautiful and indistinguishable from plastic ware painted with synthetic.
This kind of reaction is rare among Japanese people because most of them recognize that "urushi (Japanese lacquer)" means "high quality," but overseas people who have little knowledge of lacquering tend to say, "I don't understand why the Japanese lacquer ware is so expensive. In some cases, works in progress without completing the lacquering are rather popular with overseas people, and this is surprisingly widely shared among Japanese lacquer artisans.

This project is a co-development business with Soweido.
partner


Soweido
Location:〒526-0001 Kunitomo 789 Nagahama-city Shiga-prefecture
https://soweido.com/

The Kintsugi Labo JAPAN➡