New Developments in Hikone Household Buddhist Altars
---
A Display Stand incorporating a technique from traditional crafts in Hikone-city, Japan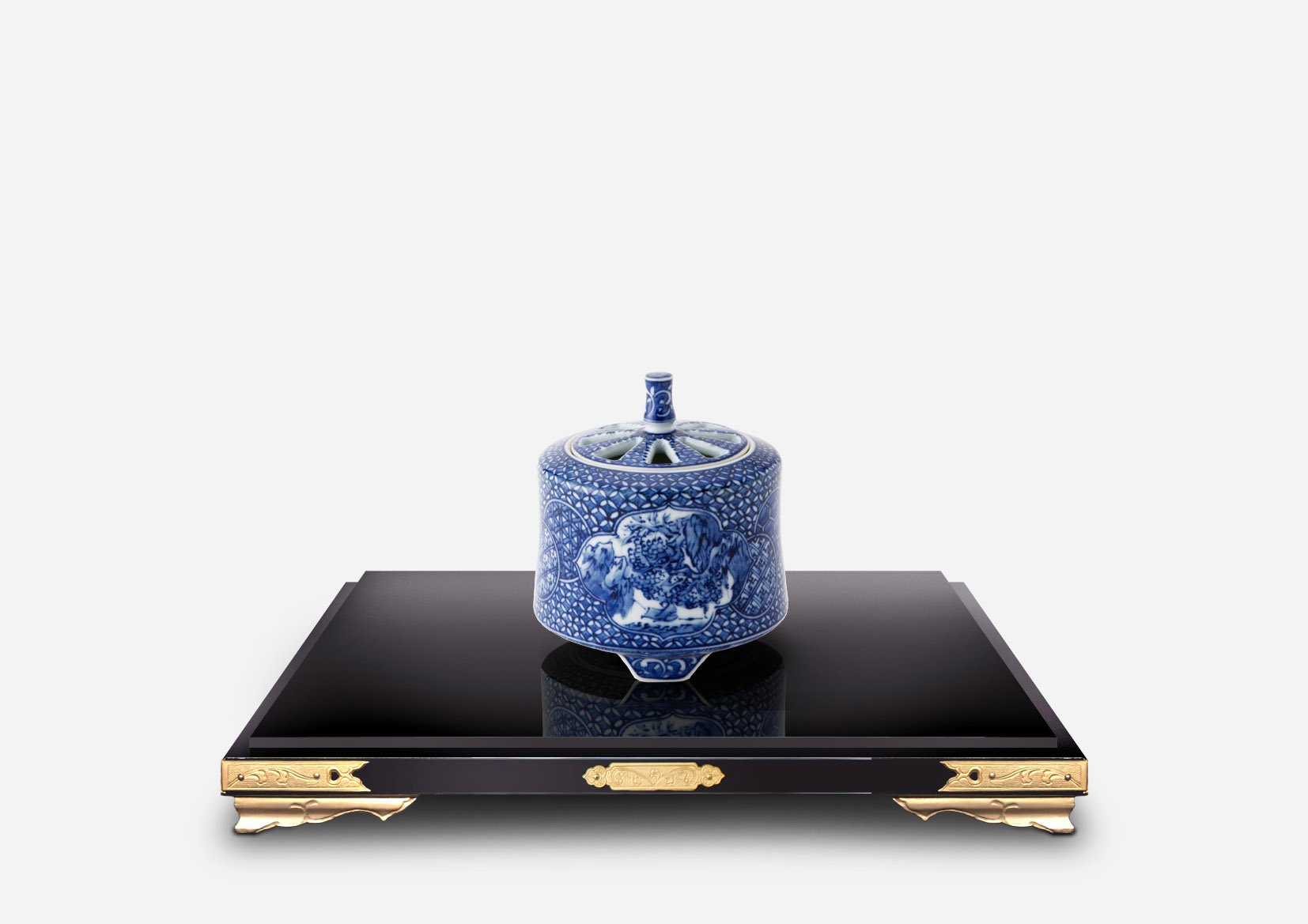 This is a new business to produce a display stand by the technique from "Hikone Household Buddhist Altars" which is a Japan Traditional Craft designated by the Minister of Economy, Trade and Industry in Japan.

Hikone City in Shiga Prefecture has one of the best technologies in the country in terms of the production of "Kin Butsudan" (means golden Buddhist altars). However, due to recent changes in lifestyle and culture, the Buddhist altar business is steadily shrinking. Since this situation is unlikely to improve drastically in the future, we have established several craft businesses separate from the Buddhist altar business, and are aiming to commercialize them.

Originally, a Buddhist altar is handled as a house where the Gohonzon (like an object of religious belief) is enshrined. Buddhist altars are extremely difficult to export. The reason is that in view of its historical ties to Japanese Buddhism, Buddhist altars are crafts with a strong spiritual aspect, rather than furniture. Thus, it will not be accepted in other countries that do not place value on it. As a result, even though it is now common for crafts to be exported overseas, especially to Europe, Buddhist altar production areas have been left out of this trend.

However, when viewed from the perspective of removing cultural and religious significance, the Buddhist altar is a collection of high level craftsmanship, with solemnity and beauty, and can be also regarded as a "box" for arranging the appearance of the principal image. The technology of Buddhist altars has also been developed to improve their quality, and we are focusing on their functions and proposing ways to use them as a display stand.

We are trying to start selling and marketing so that it will be available to use this display stand with Japanese-taste top-quality in hotels, shops, museums and corporate showrooms.

In addition, since this display stand is filled with elements of "Hikone Household Buddhist Altar", it can be applied not only as a display stand, but also as a new ending industry with increasing demand such as an ossuary or park-type cemetery.

This project is a co-development business with nanaplus from Hikone Household Buddhist Altars Cooperative Association.
Partner


nanaplus from Hikone Household Buddhist Altars Cooperative Association

39 Shinmachi, Hikone City, Shiga JAPAN 522-0085
Tel: +81(0)749-23-8322
Fax: +81(0)749-23-8321
E-Mail

Design Partner: YOSUKE INUI Design Office


To nanaplus Web site➡